<![if !vml]>

<![endif]> <![if !vml]>

<![endif]> <![if !vml]>

<![endif]> <![if !vml]>

<![endif]> <![if !vml]>

<![endif]> <![if !vml]>

<![endif]>
                 ===  Schlager – sång på svenska ===
BRITT DAMBERG - 1957-63                                Star-Club 5023   Kanon svensk schlager                            (32)   150:-
Allra sista flugan nu de´ e´ RnRoll/ På tal om kärlek (The Saints RnRoll)/ Itsy bitsy teenie weenie…/ Hälsa Mikael från mig/ Johan på
Snippen-Twist/ Kärleksland/ Cinderella/ Nancy/ Nya fågelsången/ De´ ä´ galet/ En liten bitter tår/ Tur i kärlek/ Min hjärtevän/ Han
stannar här/ Kärlekstelegram/ Det är långsamt att leva utan dej/Du får en klapp denna första kväll/ En liten kyss är en kyss/ Runt, runt,
runt/ Mustapha/ Aldrig blir man nöjd/ Massor av kärlek/ Kyss mig,honey,honey,kyss mig/ Kom snart igen/   Klas-Göran -på tyska)
TOM NORDBLOMS -En lördagskväll i Folkets Park                              Utmärkt 60tals schlager      i lager igen!                  (23)   150:-
  En liten gulnad lapp/ Marie-Louise/ Bara vi (Molly)/ På en enslig väg/ Minnenas väg/ Susanne/ Aldrig någonsin försent/ När Tom
  Nordbloms spelar opp/ I en liten barkbåt/ En liten sliten Nallebjörn/ En gång/ En liten gyllene ring/ 1142 i Fagerå/ Tack för ikväll
YVONNE NORRMAN - Yvonne Norrman                                                    Kanon 60s svensk schlager-tjej                                   (30)   150:-
  Tack för alla kyssar/ Du har väl köpt ringen/ Hålligång twist/ Du måste lära dig vad jag heter/ Jag marcherar vid din sida/  
  Du kom försent/ Super-opti-mopsiskt.../ Johnny Jingo/ Stoppa in/ Spargrisen/ ZumZumZum lilla sommarbi/ Det smärtar mitt hjärta
  Du har väl köpt ringen/ Gräsänke Twist/ Trogen mot dig/ Kommer,kommer ej/ Tur i kärlek/  Wenn am Siljan See(på tyska)
GITTE HENNING – Det bästa             emi                        alla svenska inspelningar                                                             (24)   95:-
  Varje stjärna i det blå/ Det kan väl inte jag rå för/Kom ner på jorden igen/ Borta bra,hemma bäst/ We´re gonna go fishin´/ Do what…
THE HILLBILLY FIVE –Top 20                                       Riverside              original-inspelningarna                                              (20)   95:-
  The great Snowman/ Alabam/ Jimmy the newsboy/ She´s just a wholt like you/ Oklahoma hills/I beg your pardon/ Excuse me/
  Thanks a lot/ Waiting for a train/ Tennessee flat top box/ The blizzard/ To whom it may concern/ Den store snömannen(på svenska)
CACKA ISRAELSSON – Gamle Svarten                    emi                      50-tals inspelningar                                                        (20)   95:-
  En sliten grimma/ Sexton ton/ Min gula ros i Texas/ Billy Boy/ Kärleksbrev i sanden/ Tom Dooley/ Röda präriens vind/ Min blåaste bl.
CACKA ISRAELSSON – 30 Önskefavoriter               Riverside              60-tals inspelningar                                                      (30)   95:-
  Minnet av Svarten/ Min blåaste blues/ Alaska/ Ol´ man river/Djupt inne i skogen/ Gamle Joe/Blue boy/ Frogg/ Jo,minsann/ Jingle-
  Jangle/ Han måste gå/ Sivermåne över bergen/ Amerikabrevet/ Din dummer/ Geraldine/ San Antonio ros/ Gå gå gå/ Oklahoma
SVEN-GÖSTA JONSSON – Önskefavoriter               Solna                    Rockande Samen                                                           (30)  95:-
  Vid foten av fjället/ JokkMokkRokk/ Kyss mih, honey/Donna/ Lapp på luckan/ Wild wind/ Lillemor/ Snälla Per/ Bonnie Twist
MARIANNE KOCK – Det bästa                                       emi                                                                                                                   (29)  95:-
  Vackra sagor är så korta/ Du är allt/ Varje gång jag ser dej/ Sista dansen/ Vilken fröjd å vilken smärta/ I drömmens land/ Punkt å slut
LITTLE GERHARD – 16 svenska originalklassiker    uni                                                                                                                 (16)  95:-
  Den siste Mohikanen/ Petter och Frida/ Gubben i månen/ Tre små fiskar/ Kärlekens bud/ Liebestraum twist/ Skoldags (m LILL-BABS)
OWE THÖRNQVIST – Då, Nu, Alltid                            B Am 2CD            alla hans gamla bästa                                                  (49) 150:-
  Dagny/ Gun från Dragarbrunn/ Diverse julboogie/Svartbäckens ros/ Rotmos Rock På festplatsen/ Auktions-rock/ Liten gröt-rock/ Icke
  Sa Nicke/ Anna Kaffepanna/ Varm korv boogie Alptoppens ros/ Hjalmar bergström/ Betty Kvist/ Lula lej/ Jaguar Sport/ Vilma/
OWE THÖRNQVIST – Yaba Daba Doo                          Mia                       Unik reklam-CD utg 1995     sista exen.                    (6)     45:-
  Diverse Julboogie (m TOMPA JAHN 1955)/ Wilma (engelsk text/ Reklam-jinglar(50talet) Mazetti/ Bronzol/ Gala-hymn/ Potpurri
CARLI TORNEHAVE – Musik vi minns                       Philips                                                                                                             (20)  95:-
  Under ekars djupa grönska/ Mexican shuffle/ Hårda bud/ Mary Rose Hård stad/ Törnrosen/ Först av allt/ När jag går gatan fram
GUNNAR WIKLUND – Önsketimmen                           emi                        1959 – 72                                                                        (22)   95:-
  Nu tändas åter ljusen i min lilla stad/ Minns du den sommar/ Han måste gå/ Mest av allt/ Vi ska gå hand i hand/ Nu reser jag hem/
Vi har även andra CD med svenska artister (sång på svenska) med bl a     Lill-Babs, Anita Lindblom,Anna-Lena Löfgren, 
      Siw Malmkvist, Per Myrberg, Sven-Ingvars,  olika  ´Svensktoppsklassiker´  med flera  (men ingen lista).                     
SCHLAGERMINNEN från 50-talet tmc 2CD        OBS = utgången hos bolaget                                              (40)            165:-
  ÖSTEN WARNERBRING-En glad Calypso om våren TOWA CARSON-Handklaver och kärlek CACKA ISRAELSSON-Min
  idol LARS LÖNNDAHL-Melodie d´amour INGER BERGGREN-Kärlek, nål och tråd CARLI TORNEHAVE-Första gången/
  Venus NORA BROCKSTEDT-Det som sker det sker BRITA BORG-Det hjälper ingalunda lej LILL-BABS-en hemvävd still
  sam tös THORY BERNHARDS-Ann-Caroline ULLA-BELLA-Slabang ARNE LAMBERTH-Gelsomina POWEL RAMEL-
FOLKPARKSMINNEN                      Solna 2CD    mest 50-60s inspelningar men även några från 40-70 å 80talet   (40)                      165:-
  OWE THÖRNQVIST-På Festplatsen ANITA LINDBLOM-Jag vet ett litet hotell GUNNAR WIKLUND-Mest av allt  POVEL
  RAMEL-Johanssons Boogie Woogie vals CACKA ISRAELSSON-Min gula ros i Texas EMILE FORD-Little June FAMILY
  FOUR-Kör långsamt LITTLE GERHARD-Jazzgossen ANN-LOUISE HANSSON-Är du ensam ikväll ÖSTEN W-FolketsPark
SCHLAGER JOURNALEN                                    emi                                                                                                                           (24)         95:-
GIT PEHRSON- Den som glad är/ Mamma, en karl har sett på mig/ En ring på mitt finger BRITT-INGER DREILICK-Kärlek,nål
och tråd/ Jumper & jeans/ Sugartime CACKA ISRAELSSON-Åh,viken tjej/ Zambesi/ Flickorna i smala gränd/ Snögubben/ Purple
people eater MARIE DIEKE- Augustin/ Om våren/ Åh, ifall jag vore du ändå/ Skol chacha/ Kyss mej, honey, honey, kyss mej
SCHLAGER JOURNALEN Vol 2                          emi                                                                                                                            (24)        95:-
INGER BERGGREN-Sol och vår/ Mamma,vad det är kul med Twist/ Twist till meuett BRITT DAMBERG-Min katt dansar Chachacha/
Pyret/ Sju vackra gossar/ Hälsa Mikael från mig/ Alexander TOSSE BARK-Långt bort i Minnesota/ Marina/ På vårat fik/ Dags igen att
vara kära/ Du är söt fast du är sur GERD PERSSON- Marcellino/ Snurgla med gnurglan/ De´ ä´ rätt/ Pepparkadetten/ Tom Pillibi
DANSMINNEN FRÅN 60-talet                       tcd                        60tals inspelningar                                                                            (20)     95:-
  TOM NORDBLOMS-En liten gulnad lapp MAGNUS KVINTETT-Ska du någonsin bli min VALIANTS-För ung COOL CANDYS
  Silvermåne över bergen JAN WELANDERS-Liza Lou BRÖDERNA VOLT-Får jag lämna några blommor LILL-INGMARS-Molly
  OLA HERMANSSON-Vägen hem FLAMINGOKVINTETTEN-Lilla Ann BOSSE LIDENS-Home on the range JAN ÖJLERS-
  Natten har 1000 ögon HÄRJES-Minnenas gata THOR-ERICS-Sju ensamma kvällar SVEN INGVARS-Då börjar livets vår NORE
DANS MINNEN från 60-talet                                    Riverside 2CD                                                                                                   (40)    165:-
  MAGNUS KVINTETT-Monika/ Varför TRIO Me BUMBA-Puss och kram/ SpelOlles gånglåt PELLES-Snart så lägger jag av COOL CANDYS-
  Jämtgubben/ I en grönmålad låt FLAMINGO KVINTETTEN-Molly/ Det hjälper ingalunda TOM NORDBLOMS-En bukett med vissna rosor
  ÖIJWINDS-Det var dans borti vägen THOR-ERICS-En liten amulett/ Minnet av dig SVEN-INGVARS-Luffarevisa/ STREAPLERS-En sliten   
  grimma JÖRGENS-Monja JI-COOS-Camilia BOSSE LIDENS-Bonden och kråkan/ INGMAR NORDSTRÖMS-Spiskroks-shuffle/ Blott för dig
  STEN&STANLEY-Jolly Bob från Aberdeen ULRIK LINDHOLMS-Bei mir bist du schön KENT HALLBERGS Ork- Med dej vid min sida
<![if !vml]>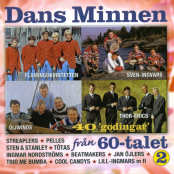 <![endif]>           DANS MINNEN FRÅN 60-TALET Vol 2        TMC 2CD       (40)  165:-
          SVEN-INGVARS-Te´ dans me´ Karlsta-tösera/ Kristina från Vilhelmina STREAPLERS-
Margit TOM NORDBLOMS-I en liten barkbåt PELLES-Är jag dum WICKERS-Lancy
CURT HAAGERS-Dansa en dans med mig INGEMAR NORDSTRÖMS-Hålligång kära
Bröder THOR-ERICS-IngaLena TRIO ME´ BUMBA-Man ska leva för varandra KAY
BOND-Solen lyser även på liten stuga GUNILLA POSTAROFF-Blå löften leva för var
andra BOB STEVENS- Nidälven  MAGNUS KVINTETT-Christina LARRYS-Alla goda
ting är tre STEN & STANLEY-Regnets rytm JAN ÖJLERS-Det är så skönt att vara två
COOL CANDYS-Säg måne säg ÖIJWINDS-Nattens melodi ELDORADOS-Varför är dina
kinder så våta GARVIS SHOWBAND-Vilken underbar värld BOSSE LIDENS ORK.- Show
DANS MINNEN FRÅN 60-TALET Vol 3             TMC 2CD                                                                                                  (40)   165:-
  SVEN-INGVARS-Flickan och hårbandet/ Ett litet rött paket BEATMAKERS-Måste du TRIO Me BUMBA-Min fela BRITH
  ENDERS-Var inte arg JAILBIRD SINGERS-Där björkarna susa FLAMINGOKVINTETTEN-Du kom försent/ Sexton år
  JUPITERS m Christer Sjögren-Min vän BOB STEVENS-Beate Christine MAGNUS KVINTETT-Susanne LILL-INGMARS-
  Varje dag SEIBERTS-Molly SCHYTTS-Aldrig någonsin försent BENNY LAWINS-En dag knackar lyckan på din dörr
TJEJER                                                                     Triola                                  Kanon 50s/ early 60s svenskla tjejlåtar               (21)   140:-
  BRITT DAMBERG-Johan på Snippen Twist/ Hälsa Mikael från mig/ Det är långsamt utan dig/ Cinderella THORY BERNHARDS-
  Farmareflickan LENA GLÄDT-Kyss mig kvickt LENA CONRADSSON-Jag har aldrig blivit kysst BARBRO SKINNAR-Ingen twist
  G  POSTAROFF-Du krossade mitt hjärta när du for L BODIN-Troll Rock GERD PERSSON-Souvenirs ULLA PERSSON-Gulle
  dej/ Jag bränner dina brev N BR.STEDT-Strekkebuksen CARINA AHRLE-Läppstift på din krage ANNE KARINE-Ringo,paul.John, 
Svensk ROCK´n´ROLL
<![if !vml]>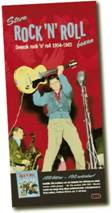 <![endif]>                                                <![if !vml]>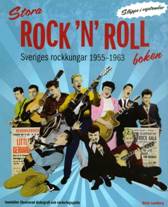 <![endif]>
STORA ROCK´n´ROLL BOXEN            4CD box
Svensk RnRoll 1954-63                                                                    Nu 375:-
Samma utformning som Schlagerboxen som numera är utgången. Inkl några outgivna. Så Ni intresserade missa inte denna!
ANN-MARGRET-Heartbreak hotel BALUBAS-Baluba Twist CUSTOMS-Blue moon of kentucky ROFFE BERG-Wail
House Rock BERNIE BOYS-Bird Dog BOOGIE BENGT-Blackberry boogie BORIS-Stood up BURKEN-True fine mama
BURSELL TWINS-Route 66 IVAN NORDSTRÖM-Låt allting ha sin gång CHICO&TIGERS-Y´Arriva CYCLONES-
Hound Dog (instr) BOB ELLIS-There´s never been a night CHRIS LENNERT-Du måste lära dig rock ROCK-FINN-Treat
Me nice  FLINTSTONES-Twisting bird G-MEN-Russian Bobbysocks TOMMY HALLDÉN-Rockin Robin KALLE HOLM
BERG-Bonnie,twist around with me CACKA ISRAELSSON-Giddy up a ding dong THOMPA JAHN-Stockholm rock
BENGT JOHANSSON-If the shoe fits ROCKANDE SAMEN-Wear my ring KINGSMEN-Svarta ögon LILLE JOHN-
Baby I don´t care CHARLIE KUYLENSTIERNA-Come on let´s twist LITTLE GERT-Kentucky waltz LITTLE M-
Rockin robin STICKAN LUNDBÄCK-Betty Lou THORBJÖRN LUNDQUISTS Ork-Drugstore twist PER-ELVIS-
Ready Teddy Q BROTHERS-Rip it up TUTTAN RENHOLM-.Stay ANNICA RISBERG-Chock Rock ROCK-BIRGER-
Bouna Sera ROCKIN´ SAM-At the hop ROCK-OLGA-Where my baby goes LITTLE GERHARD-Blue suede shoes
HÅKAN STAHRE-Poor boy PERCY STEELE-Teenage party SVEN-INGVARS-Let´s have a party TED&TOP TEENS-
3 guitars n drums WHITE BEAR-Pretty little tings called girlsWHITE INDIANS-Indian special WOODPECKERS-Don´t
you rock me daddy-o YELLOW DYNAMITES-Dynamite boogie   fr TIMMEN TUMBA-What you´ve done to me   m flera
Stora Rock´n´Roll boken   Sveriges Rockkungar 1953-63          375:-
Den definitiva boken om rockens intåg i Sverige och om de första rockidolerna – från Chris Lennert å Stickan Lundbäck till
Jerry Williams. Rock-Ragge regerade i början men Little Gerhard blev hela Skandinavien rockkung.Läs också om  Boris,
Burken, Rock-Rolf, White Bear, Lille John, Percy Steele, Rockin´ Sam, Willy King, Rockande Samen, Gunnar Kinch, drottning
Rock-Olga m flera.Vilka skivor är dyrgripar idag? Det får du veta i en komplett illustrerad diskografi i färg med värderingsguide.
Av Börje Lundberg. 360 sidor med information om hur det var + massor av bilder. Utgiven av Premium Publishing.
<![if !vml]>

<![endif]>                    <![if !vml]>

<![endif]>
ÄNNU MERA SVENSKA ROCKMINNEN   Riverside 2CD            Nu i lager !                                                  (40)  165:-  
MERA SVENSKA ROCK MINNEN  Riverside 2CD     12 sidigt häfte                                                                    (40)  165:-
BOB ELLIS-Kom i min rock TOMMY HALLDÉN-When ROCK-FINN-Teenager in love ROCK-KRISTER-Teddy Bear ROCK
OLGA-Makin´Love PERCY STEELE-I love you baby ROFFE BERG-School Days BURKEN-Soldier Rock BOOGIE BENGT
Smokey Mountain Boogie ROCKIN´ SAM-Silent lips MONA GRAIN-Bye bye baby BORIS-Waitin´ in school ROCK LENNE-
Alice blue gown LEPPE SUNDEVALL-Ladda, hurra och bränn av JAN ROHDE-Come back baby VIOLENTS-Cindy CHICO&
The TIGERS-Summer Serenade RUNESTONES-Hjalmar och Hulda LITTLE GERT-You got what it takes MAD CAPS-You
are my sunshine NOISEMEN-Surströmmingstwist SVEN-INGVARS-bei mir bist du schön DIONS SHOW-Tenn Waltz BUTTER
FLIES-Golden earrings STCKAN LUNDBÄCK-Come prima CHARLIE NORRMAN-Jokkmokkrokk LILLE JOHN-Treat me
nice ROCK-RAGGE-Ballroom baby CLIMBERS-Song from IsraelCARETAKERS-Blue tango JOHNNY VALLONS & DEE
JAYS-Wondrous place ADVENTURES-Theme from Leningrad KEN LEVY & PHANTOMS-Shakin´ all over     m flera
SVENSKA ROCKMINNEN                                              Riverside 2CD                                                                                                (40)  165:-
SIMON BREHM-En äkta Rock and Roll TOMMY HALLDÉN-Rockin´ Robin TOMPA JAHN-Stockholm Rock LITTLE GERHARD-
What you´ve done to me ROCK-RAGGE-Who slapped John BORIS-Rock & Beatin´ Boogie STICKAN LUNDBÄCK-Shake rattle
and Roll medley ROCK-KRISTER-Sputnik RnR BURKEN-True fine Mama CHRIS LENNERT-Du måste lära dig rock LITTLE GERT-
Four little heels LILLE JOHN-You´re so square OWE THÖRNQQVIST- Nam Jam WHITE BEAR-Stupid Cupid ROCK-OLGA-When
my baby goes ROCKIN´ SAM-Party LENNE-Shine BOOGIE BENGT-Number Boogie WILLY KING-Rock-A-Billy MONA GRAIN-
Lipstick on your collar VIOLENTS-Alpens ros JERRY WILLIAMS-Darling N Grey THE ADVENTURES-Johan på Snippen LILLAN
& STIKKAN ANDERSSON-Baby Twist SHANES-Gunfight Saloon SUZIE-Johnny loves me STEN & STANLEY-Wiggy Woogie
LARRY MOON-Tijuana Ball SPOTNICKS-Ghostriders GUNNAR KINCH-Baby Baby JI-COO & VIKINGS-Viking boogie BENNY
BORG-Little Tina CARETAKERS-Little pretty Anne STAN NELSON-Once BOOTS-Volga MAD CAPS-South of the border BASE
MEN-I sommarens soliga dagar KJELL HENNING-Three guitars and drums      med fera
<![if !vml]>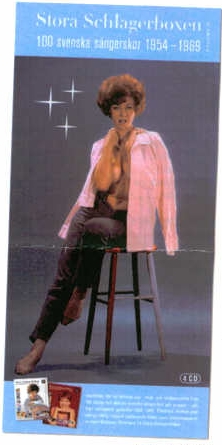 <![endif]>
STORA SCHLAGERBOXEN Vol 2
  Sista exen!    375:-
  100 svenska sångerskor 1954 – 1969. En 48-sidig booklet med bilder
  å  låtkommentarer.  En låt av varje artist + 4 bonuslåtar.
  RENEE AGEN-Den knasiga familjen CARINA AHRLE-16 år BIBI
  ANDER-En gång var han min kille ANN&LIL-Skriv någon gång LILY
  BERGLUND-Kyss mig varje morgon INGER AXÖ-Hinky pinky panky
  ANITA BERGGREN-Itsy bitsy.. BRITA BORG-Frankenstein Rock GIT
  PEHRSON-Mamma,en karl har sett på mig PEGGY LIND-Mina kärleks
  brev dom vill jag ha igen HELENE LINDH-Bara 11 år NILLA-Sav-a-
  penny super store ULLA PERSSON-Gulle dej CHICKS-Three Window
  Coupe  LENA CONRADSSON-Varje stjärna I det blå MARIE DIEKE-
  Lollipop AGNETHA FÄLTSKOG-Borsta tandtrollen bort BIBI JOHNS-
  Ricky-Tick KAYS-Flipped over you TUTTAN RENHOLM-Bobby B.
  ROCK-OLGA-Barnvaktsboogie ANNICA RISBERG-6-5 Hand Jive
  BRITT RYLANDER-Rock ring song BARBRO SKINNAR-Ingen tvist
  om twist LEENA SKOG-Oh,älskling- ta mig inte nu SUZIE-Det får ej
  hända igen  med flera.  Komplett låtförteckning kan bifogas med CD.
 STORA SCHLAGERBOKEN Vol 1   A - L          420 sidor             475:-
       "                 "               "        Vol 2    M- Ö          340 sidor             475:-
 Om alla svenska kvinnliga artister som gjort en skiva.
Storys å discografier                                               
EP-Boken  Swedish Rock & Pop Pressings 1954 – 69   375:-
Nu med bilderna i färg (och mera komplett – ca 1500  EP svenska EP-omslag).
500 fler än i första utgåvan. Innehåller alla EP som hade minst en titel på engelska.
ROTMOSROCK   Den första svenska rocken 1953 – 59                      rocka          tillf slut????                                                   (23)     165:-
  ERNIE ENGLUND-Crazy man crazy GUNNAR NILSSON-Rock around the clock/ RnRoll valsen SIW MALMKVIST-Tweedle
  Dee OWE THÖRNQVIST-Rotmosrock ROCK-ROLF-Stockholms rock HUBBE-Rock,rock för fyra lock ROCK RAGGE-Teach
  you to rock BORIS-Doomsday rock LITTLE GERHARD-Wake up little Susie STICKAN LUNDBÄCK-Betty lou ROCK-FINN-
  Jailhouse rock BURKEN-Baby RnRoll CHRIS LENNERT-Tiger roll LILLE JOHN-Long way from home ROCK-KRISTER-
  Sputnik RnRoll WHITE BEAR-Stupid Cupid CHILOs SKIFFLE-Pay me my money down ROBANs SKIFFLE-Wabash cannonball
  ROCK-OLGA-My dixieland roll SVEN-G JONSSON-Jokkmokk rokk SVEN INGVARS-Diana/Bouna Sera M LJUNG-RockFnykis
===   Svensk  60s  Pop / Beat  ===
SWEDISC  COLLECTION                                           Solna 2CD                                 insp fr skivbolaget SWEDISC                   (54)     165:-
  THE NASHMEN-Carol/ You´re so good to me HILLBILLY FIVE-The great Snowman/ Thanks a lot HIGH NOTES (Kurt Olsson)-
  Come on trade/ The ´Hep´ canary CHICKS-Three window coupe/ Christmas present J VALLONS & DEEJAYS-Hello Josephine/ 
  Cuddle up/ Please don´t criticize BLUES QUALITY-Rock me baby/ Oh pretty woman BORIS-I got a woman SUNNYGIRLS-From
  a distance/ What´s the reason MOONLIGHTERS-Cage of gold/ Lucille BENNY BORG-Little Tina CURT BORKMANN-Hungry
  for love/ Just tease for fun M WALLACE&CARETAKERS-The end of the world ZETTLERS-Skinnie Minnie BOB MAJOR&GIs
DANMARK                                                    
THE CLIFFTERS – The Complete 1961 -64         Frost 2CD                    Dansk gtr instr (inkl vokala)    få ex                          (45)  225:-
Django/ Amapola/ Twistin´ Patricia/ Riding Cossack/ My heart and I/ But I do/ Walkin´ back to happiness/ Travellin´ home/
Missing link/ One way ticket/ Jeg vil ringe på dören (I´m Gonna knock on your door)/ Man of mystery/ Sleepwalk/ Atlantis/ Sleep
THE DANISH SHARKS - Ready,Steady                         frost                      Complete 1963-65       hälften gtr-instr                     (35)   175:-
  Shakin´ the battle hymn/ Long tall Sally/ Brazil/ Hully Gully,Let´s go/ Cin Cin/ Ready Teddy/ Hello Josephine/ Nellie Grey/ Hump
FOUR JACKS - Det Bedste                                              Harl                       på danska  1957-63                                                      (24)   125:-
  Oh Maria,jeg vil hjem/ Personality/ Kom til Alaska/ Tom Dooley/ Det var på Capri/ Violetta/ Jens Hansens bondegård/ Slentre gen
GITTE HENNING - Det Bedste                                         Harl                       60tals-insp (+ några 70s) på danska                        (25)   125:-
  Lille Frk himmelblå/ Bare 16 år/ Luk din radio op/ Tag med ud å fisk/ Kom ned på jorden igen/ Prinsesse for en dag/ Hollywood
GITTE HENNING - Ich Will ´nen Cowboy Als Mann    BCD                     1959-63 insp på tyska å engelska                              (29)   165-
  We´re gonna go fishin´/ Pretty eyed baby (m Laurie London)/ I´ve told every little star/ Do what you want/Souvenirs (holländska
  Keine schule morgen/ Junge leute sind nicht älter/ Das kommt davon/ Wunderland der grossen liebe/ Das alte haus in der Huck.
SIR HENRY & HIS BUTLERS – Complete 1962 – 67   RIB 2CD  Danskt 60s band                                                                       (61)  195:-
Let´s go/ Giddy-up-a-ding-dong/Jenny take a ride/ Marianne/ The Hucklebuck/ Jingle bells/ Sweet and lovely/ Hearts of stone/ Do it again
THE LIONS - Story                                                            frost                      Dansk Beat 1963 - 66                                                   (32)   175-
THE LOLLIPOPS – The Complete 1963-67                 RB 2CD                samtliga gamla inspelningar ?                                   (65)   195:-
  Lollipop lips/ Movin´ the shoes/ Do you know/ Shakin all over/ Lollipops boogie/ Birdthday party/ Lollipops shake/ I´ll stay by your
  side/ Movin the shoes/ Speedy Gonzales/ Little bad boy/ I´ll stay by your side/ There was a time/ Why fly the birds/ Sussy Moore
NINA & FREDRIK - Det Bedste                                       Harl                       1957 - 67                                                                         (24)   125-
  Lad os flyve til en stjerne/ Day-O/ Maladie d´amour/ Come back,Liza/ Jamaica farewell/ Scarlet ribbons/ Little donkey/ Try to rem.
THE TELSTARS - True Love Has Gone                         frost                      Instr,beat å garage 1962-68                                        (31)   175:-
THE VANGUARDS - Beat On The Rocks                     frost                      1964 - 68                                                                         (32)   175:-
THE ROCKING GHOSTS – Complete Story 1962-70       Vokalt / instr                                                                                         (62)     225:-
  Belinda (s / LP-version)/ Vilja oh Vilja/ Scotland the brave/ In the mood/ Hey hey hey/ Whole lotta shakin´/ Sleep walk/ Tribute to B 
  Holly/ Pretend/ Slow down/ Ghost walk/ Tiger rag/ Kom en tiger I tanken/ Don´t ha-ha/ Annie is back/ Ya ya twist/ Marianne/ Djing
  Kahn/ Fur Elise/ Waiting for a train/ I only want to be with you/ Oh,what a kiss/ Now is the hour       med 28-sid häfte,story + bilder
PIGER, POP & PIGTRÅD  1963-68                               frost                      danska 60-tals tjejer                                                      (32)   150:-
  DAIMI-How do you do it/ Pretty boy lonely ANETTE-What about me/ Johnny is my guy/ Let´s jump the broomstick/My honey
  EVA & INGE-Dao door on ron/ Sandy GUNILLA THORN-Jealous woman/ Our love HANNE-Train of love/ Little country girl
  ANNISETTE-Stay with me baby/ River deep,mountain high LEA-Marble breaks YVONNE & BINGOS-Wait and see/ I look at
IT`S TWISTIN´ TIME                                              Frost       60tals Twist från Danmark    (några ex inne igen)          (27)   150:-
  DAIMI-The Twist/ Ören twist/ Twist around the clock/ Teenager twist JÖRGEN INGMANN-Donauwellen twist/ Milkshake
  Twist CLIFFTERS-Twistin´ Patricia EUGEN TAJMER-Let´s twist LIS BJÖRNHOLT-Speedy Gonzales twist VIVI BAK-
  Tivoli Twist TREFFTERS-Boogie twist TOMMY-Billy boy twist OTTO BRANDENBURG-Twist till the cows come home
DANSK PIGTRÅD Vol 11         2CD                     Sonet/ Universal        Danska Vokala/instrumentala grupper 1961-63                    (62) 225:-
BLACK DEVILS-True fine Mama/ Sandstorm/ Teen Scene/ Carolina/ Twist in chinatown MEDLEY SWINGERS-Tiger milk/ I´m comin´/
Oh Carol STRINGERS-Never/ Why little girl/ Rip it up KEYROCKERS-Dreamy eyes/ Jungle twist ROOKEYS-La Paloma/ My blue heaven
TREFFTERS-The boogie twist WEEDONS-Shy girl/ Boogzie/ Good lovin´/ FLINTONES-In the mood LITTLE FREDDY & ROCKBOYS-
Tintarella di luna/ High noon/ Guitar man SWINGSTERS-Teenager rag/ Ginchy WEEDONS-Edne Bar Twist/ Shy girl/ Whole lotta shakin´
<![if !vml]>

<![endif]> <![if !vml]>

<![endif]> 
   NORSK  ROCKS  SKATTKAMMER
BERGEN  BEAT Vol 2                  1964 - 67                                           Backstage           volym 1 = slut                                            (27)  150:-
  HELGE NILSEN& STRINGERS-There´s a place on earth/ Will you love me/ A day in June/ A day tomorrow/ Carry me back/ Den
  första gång jag såg dig/ Walk right back/ Feelin´ blue/ That´ll be the day SVERRE FAABERG-Just one thing/ Come some closer
  DAVY DEAN-Little lover girl/ Rhine stones/ Don´t call my name/ Take me home to Mama/ Hello walls/ Huoston TORILL ÖDE
  GAARD & The QUARTERMASTERS-Når det är vår RHYTMIC SIX-Since I met you baby JOKERS-Casanova kyss meg/ Sol går 
  i hav RUNE LARSEN & Teenbeats-Y´Arriva YOUNG ONES-Montezuma                                           
MANU YEARS Vol 2                                                                              Triola                   se Star-Club / Triola sidorna
POP -67                                                                                  Norska ´långhårspop-grupper´ från 1967                               (27) 150:-                                                                                                           
ANN-LOUISE HANSON – Mehr als ein augenblick    Bear F                  1962 – 81          på TYSKA                     (28)   165:-
  Ein schiff furh nach Santiago/ Sing,kleiner vogel/ Mario/ Bingel-bangel boy/Du und ich (m BORIS)/ Rosa rio/ Rosen bluhen uberall
LILL-BABS – Wo finde ich den Mann?                         Bear F                   1961 – 65                                                                        (34)   165:-
  Amore,amore/ Goodbye cowboy/ Yes,Mr Supermann/ Aber du/ Blue boy/ Holl-dolly day/ Diavolo/ Glaub´ an mich/ Baby,las deine
  Sorgen../ Belle Mademoiselle/ Wow wow wee/ So sind alla manner/ Weekend und sonne/ Wir jungen leute/ Das macht die liebe/
ANITA LINDBLOM – Lass die liebe aus dem spiel    Bear F                    50 - 60s                                                                            (25)   165:-
  Männer sind knapp/ No,no amigo/ Cigarettes/ Fieber/ Wenn ich liebe/ Danke schön/ Liebe/ Es lieget nur am dir (m Owe Thörnquist)
ANNA-LENA LÖFGREN – Dein Herz…                       Bear F                                                                                                              (29)   165:-
  Dein herz,das mus  aus gold sein/ Rosen aus papier/ Alle blumen wollen bluhen/ Sag´ nicht immer baby/ Schön ist das leben/ Das ende
SIW MALMKVIST – Trocadero 9910                           Bear F                   1959 – 60                                                                        (24)   165:-
  Augustin/ Schotten Rock/ Lucky boy/ Die liebe ist ein seltsames spiel/ Lieber Johnny komm doch wieder/ Das ist mein rhytmus/ Blueboy
SIW MALMKVIST – Liebeskummer lohnt sich nicht    Bear F              1961 – 65                                                                        (30)   165:-
  Danke fur die blumen/ Schade,schade/ Bye-bye-bye/ Mr Casanova/ Crazy boy/ Sole,sole (m U Marcato)/ Du immer du (m Cornelius)
SIW MALMKVIST – Harlekin,Die Deutchen Aufnahmen Bear F          1966 – 71                                                                        (29)   165:-
  Nie und niemals/ Ole okay/ Alles oder nichts/ Harlekin/ Prinz Eugen/ Primaballerina/ Adiole/ Aus liebe zu dir/ Clementine/ Drei rote rose                                                                                               
SUZIE – Johnny Komm              Bear                     på tyska fr 1964-69.Då jättestor här i Sverige-avled mars 08                   (20)   165:-
  Johnny loves me/ When my love passes by/ Max n Moritz/ Wonderin´/ Don´t let it happen again/ The things../Da doo ron ron
GUS BACKUS – Alle Hits und viele Raritäten     Bear                   På Tyska                                                                      (34)   165:-
  Da sprach der alte häuptling (Den siste Mohikanen)/ Der mann im mond (Gubben i månen)/ Muss i denn (Wooden heart)/ Auf
  Wiedersehn/ No bier,no wein,no schnaps/ Brauner bär und weisee taube/ Sauer-kraut polka/ Er macht mich krank/ Alle schott..